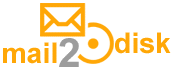 +Plus
The edition that's tailored to your specific requirements.

You like the idea and the concept behind mail2disk. But your organisation has additional requirements or needs that aren't met by the current editions. With mail2disk +Plus we are offering you an edition that can be customised exactly the way you want it. The basic functionalities and licence are the same as for mail2disk Professional.
Let us know your specific requirements using the form below. We'll send you a free, non-binding quotation for your custom mail2disk edition by return.
* The minimum order quantity to order mail2disk +Plus are 5 licenses.